Accommodation
Block reservations for MTNS 2010 participants and accompanying guests have been made at special rates at several hotels of different categories.

Please note that the number of rooms is limited at some hotels, therefore, you are kindly asked to make your reservation at your earliest convenience but no later than 1 May, 2010. Reservation should be made directly to the hotel by using the reservation form of the preferred hotel.
Hotel name / category


rates include all taxes and breakfast

Access to the
venue

Room rate / Night [€]




to be paid directly to the hotel

single use

double use

Danubius Hotel Gellért****
reservation form (.doc, .pdf)

15-minute walk

with shower
with bathroom
with court-yard view
with river or hill view

Danubius Hotel Flamenco****
reservation form (.doc, .pdf)

5-minute by public transport and
5-minute walk

74

74

Ramada Budapest Hotel****
reservation form (.doc, .pdf)

15-minute walk

86

98

Hotel Mercure Budapest Duna***
reservation form (.doc, .pdf)



10-minute walk

105

118

Summer Hotel Hill (Youth Hostel)
reservation form (.doc, .pdf)


Rates do not include either taxes or breakfast

15-minute walk

25-33

33-44
* free access to the thermal baths is also included

MAP OF HOTELS & VENUE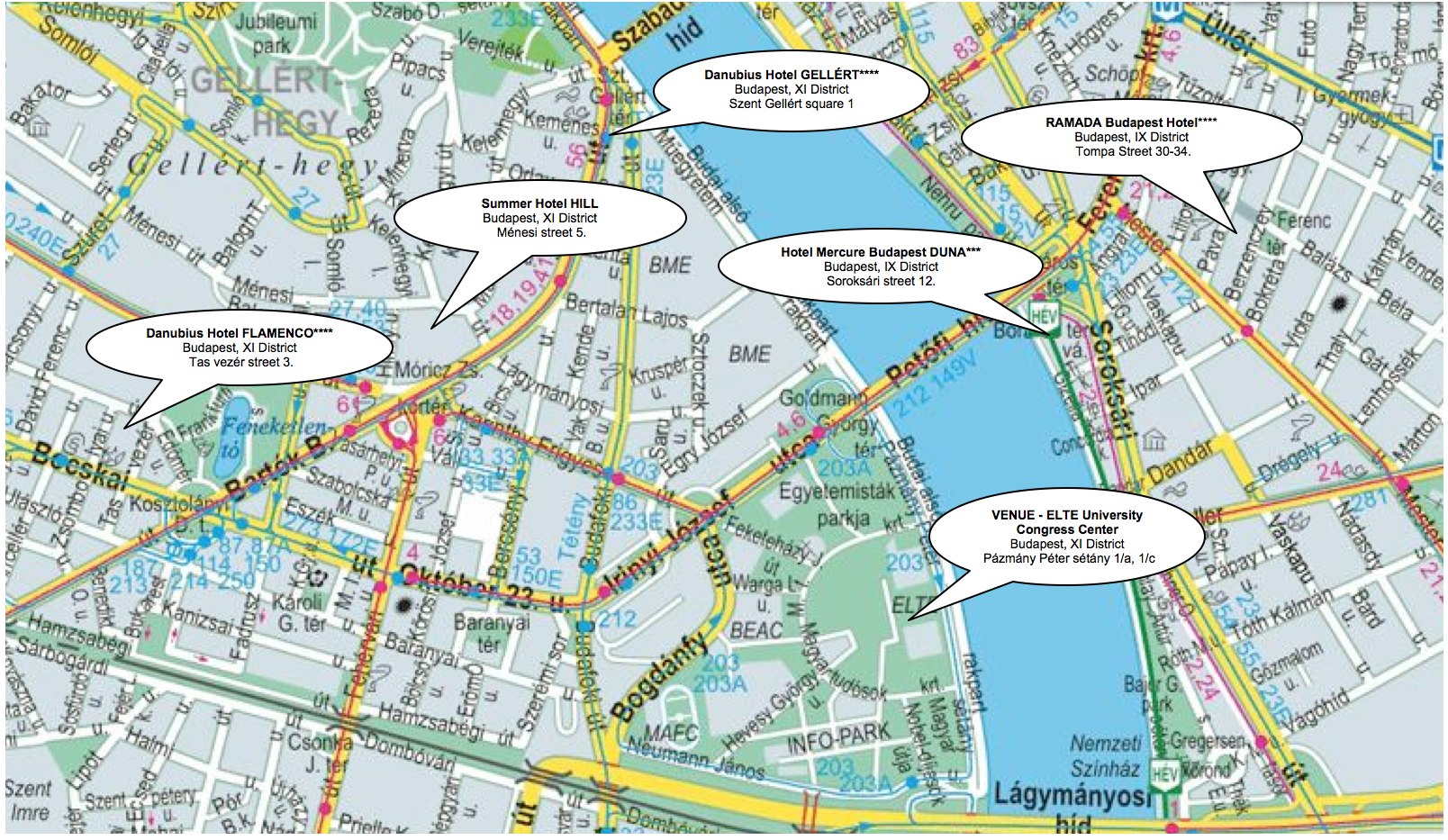 The four-star

Danubius Hotel Gellert

located in a picturesque environment at the foot of

Gellert Hill

, on the bank of the Danube, is ideally situated for both business and leisure travellers. This impressive location is within a walking distance to Budapest's most fashionable shopping and business district with the most beautiful sights of Budapest, the Liberty Bridge. This hotel is the nicest examples of the Art Nouveau style, elegant and spacious palace-hotels. It offers all the comfort and possibilities of a city hotel and a

spa

-hotel in one building.

The Danubius Hotel Flamenco overlooks a beautiful park with a small lake in a quiet residential area. This air conditioned hotel is surrounded by the scenic hills of Buda and just some minutes away from the main shopping and business areas of the capital.
Budapest offers a wide range of entertaining facilities. 
The Ramada Budapest Hotel is within walking distance to the most lively entertainment streets.

The Hotel Mercure Budapest Duna is located on the bank of the river Danube in the city center with a picturesque view to the Royal Castle. Cultural experience provided by the Palace of Arts and the National Theatre as well as Ludwig Museum are within an arm's reach.

The

Summer Hotel Hill

located at the foot of Gellért Hill, in a quiet area, just few minutes walk from the bank of the Danube and from the city center.