General information
How to get to Budapest
Arrival at Budapest by air:

Most visitors will arrive at the Budapest Ferihegy Airport - Terminal 2A and Terminal 2B, or Terminal 1 in case of arriving by low fair airlines.
At Budapest Airport, Terminal 2A serves Schengen and 2B non-Schengen traffic. Aircraft arriving from the Schengen zone is automatically directed to Terminal 2A, while aircraft from outside the zone will get a stand at 2B. The passengers within the Schengen zone can save some minutes thanks to the lack of passport control


Arrival at Budapest by train:

More than fifty trains a day provide direct links between Budapest and 25 other capital cities. Trains to Vienna run every three hours. International trains operate from the three largest stations:
Keleti pályaudvar (railway station): VIII., Baross tér. Tel: (+36-1) 413 - 4610.
Nyugati pályaudvar: VI., Nyugati tér Tel: (+36-1) 349-8503
Déli pályaudvar I. Krisztina krt. 37. Tel: (+36-1) 375-6593
For further information on schedules see the timetable of the Hungarian railway.


Arrival at Budapest by car:

All Hungary's motorways and most of her main roads radiate out from the capital. The M1, M3, M5 and
M7 are toll highways, and you must pay the appropriate toll (either at the border or at larger petrol stations). Road signs conform to continental standards. 24-hour roadside assistance is provided by the Magyar Autóklub (Tel.: (+36-1) 345-1755), and emergency roadside is available by dialing 188.

How to get to the hotels

Airport mini-bus service

The airport mini-bus service will take you anywhere in Budapest. Information desk (operator) for minibus service is found in the center of the arrival lobby. This door-to-door Airport Minibus Service is reasonably priced (one-way ticket: approx. EUR 10, go- return ticket: approx. EUR 16.)
The minibus service is located outside of the customs area. Those scheduling a round-trip transportation, are requested to call to reconfirm their return trip, at least 24 hours in advance of their flight. For a ride to the airport, you may contact the hotel reception desk.

Another way of getting to the city is by taxi. The recommended company is airport taxi (Zóna Service).

How to get to the venue

ELTE University Congress Center
(Budapest, 11th district, Pázmány Péter sétány 1/a)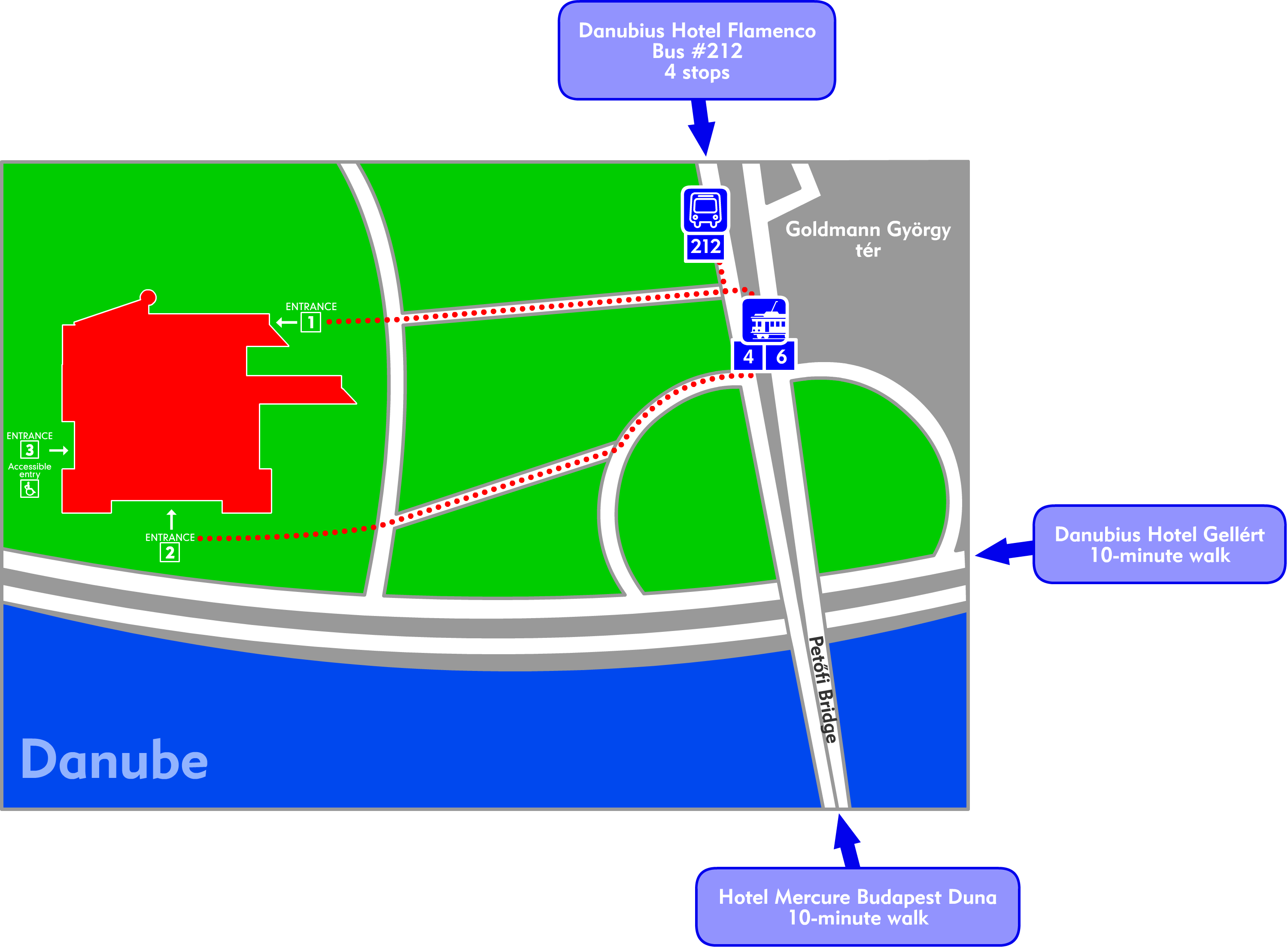 Registration and Information Desk
Opening hours:
| | |
| --- | --- |
| Sunday, 4 July: | 16.00 – 18.00 |
| Monday, 5 July:  | 07.30 – 17.30 |
| Tuesday, 6 July:  | 08.00 – 17.30 |
| Wednesday, 7 July:  | 08.00 – 13.30 |
| Thursday, 8 July: | 08.00 – 17.30 |
| Friday, 9 July: | 08.00 – 17.30 |
On-site payments
On-site payments can be settled in cash (EUR or HUF) only. "In-house" ATMs are available next to entrance "1".
Speakers' Instruction
The meeting rooms are equipped with projector and laptop. Presenters are requested to upload their presentations to the room laptop in due time before their session start. We provide MS Office 2007 professional version on the computers. This version is fully compatible with the earlier versions. Technical assistance will be provided in the meeting rooms.
Speakers' Ready Room
A Speaker's Ready Room (room 5) is provided to allow presenters to check compatibility of their presentation with the local hardware and software.
Internet Access
Free Wireless Internet access is available in the building.
Public internet access is also available in the Speakers' Ready Room (room 5)
Badges
Please, make sure that you wear your badge at every event you participate, including the coffee breaks, lunches and the social events.
Public Transport
Public transportation (BKV) is extensive and reliable. Tickets - valid for one ride only - should be purchased in advance (e.g., at metro stations, hotels, news-stands, tobacco shops). The tickets should be validated (on board or at the entrance gates), and kept, since one must provide them if requested by the inspectors on board or at the exit gates.
You may consider buying a carnet of 10 tickets or a pass (for 1/7/14 days or for a month), or a Budapest Card, instead of single tickets. The junction of all the three metro lines is Deák tér. Service time is between 4:30 a.m. and 11.00 p.m. Most bus- and tramlines operate until 11pm.
Taxi
The most popular and reliable companies in Budapest are:
6x6 Taxi

(+36-1) 266-6666, (+36-1) 466-6666

Buda-Taxi

(+36-1) 233-3333, (+36) 20- 9333-333

City Taxi

(+36-1) 211-1111, (+36) 20-9211-111, (+36) 30-9211-111, (+36) 70-2111-111

Főtaxi

(+36) 80-222-2222 (free green number) or
(+36-1) 222-2222, (+36) 20-9222-222, (+36) 30-9222-222, (+36) 70-9222-222

Rádió Taxi

(+36-1) 377-7777, (+36) 20- 9777-777, (+36) 30-9777-777

Taxi4

(+36-1) 4-444-444

Taxi 2000

(+36-1)200-0000, (+36) 30-2000-000

Tele5 Taxi

(+36-1) 355-5555, (+36) 20- 935-5555

Zóna Taxi
( between the airport and the city)

(+36-1) 365-5555
Insurance
The Organizers of the Symposium do not provide insurance and do not take responsibility for any loss, accident or illness that might occur during the Conference or in the course of travel to or from the meeting site. It is, therefore, the responsibility of the participants to check their coverage with their insurance provider.
Bank, Currency, Credit Cards
The unit of currency is Hungarian Forint (HUF), denoted as "Ft" by the Hungarians. International credit cards (AmEx, EC/MC, Visa) are accepted at most hotels, restaurants and shops. ATMs are available at the Airport and all over the city. 
Weather
Hungary is in the temperate zone, the early-July weather is usually nice and warm. Daily temperature ranges from 20C to 30C (68F to 86F), and the relative humidity is below 50%.
Voltage
The electricity supply in Hungary is 240 V AC (50 Hz).
Plugs



Plugs and sockets
Look-up table (single-phase voltage, frequency and plug/sockets)

Visa requirements
Visa free entry
Citizens of the European Union (EU)- and the European Economic Area (EEA)-member states as well as citizens of the following states may travel to Hungary without a visa:
Andorra, Argentina, Australia, Brazil, Brunei, Canada, Chile, Costa Rica, Croatia, Guatemala, Holy See, Honduras, Hong Kong (the exemption applies only to holders of a "Hong Kong Special Administrative Region"), Iceland, Israel, Japan, Macao (the exemption applies only to holders of a "Regio  Administrativa Especial de Macau" passport), Malaysia, Mexico, Monaco, New Zealand, Nicaragua, Norway, Panama, Paraguay, Salvador, San Marino, Singapore, South Korea, Switzerland, United States of America, Uruguay
Schengen States visas
Hungary is a member of the Schengen States.
Visas and residence permits issued by one of the Schengen States are valid also for Hungary,
on the other hand
- visas issued by Hungarian representations abroad and residence permits issued by Hungarian national authorities are also valid for the entire Schengen Area.
Types of Schengen visas:
• Airport transit visa (A): authorises the bearer to enter the international zone of the airport and to remain there until the time of the departure of the flight to the destination country. Only nationals of the following states are liable to apply for an airport transit visa
• Transit visa (B): authorises the bearer to a single, double or multiple transits, not exceeding 5 days at a time.
• Short stay visa (C): authorises the bearer to a single, double or multiple entries and, in case of an uninterrupted stay, to a stay of maximum 90 days, while in case of an interrupted stay, to a stay of altogether maximum 90 days within the 6 months counted from the date of the first entry.
For further details please visit the following page