SYMMETRY FESTIVAL 2003

Second Announcement

16-22 August, 2003, Budapest , Hungary


Science program:
Symmetry:
A Synthesis of Constancy and Change
Art program series:
Ars (Dis)Symmetrica '03


Sponsored by
L'Oreal Art and Science Foundation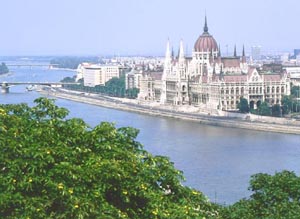 Budapest hosted first the Symposium and Exhibition series Symmetry of Structure in 1989. That was the birth of the International Society for the Interdisciplinary Study of Symmetry (ISIS-Symmetr), start of the journal Symmetry: Culture and Science (published 1990-), and of the formation of local Symmetry Circles in several cities around the world. Similar, widely attended events followed in Japan, the U.S.A., and in Israel. The investigation and conscious application of symmetry shaped a movement bringing together hundreds of artists, scientists, designers and engineers. 14 years later it is time to return to the origins in Europe.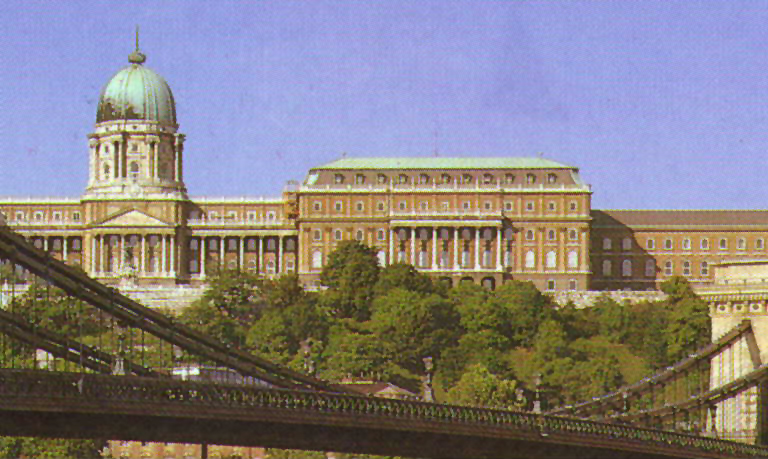 The Buda Royal Castle, accommodating the Hungarian National Gallery
where the Symmetry - Asymmetry exhibition was organised in August 1989
All kinds of interpretation, application and representation of symmetry (asymmetry, dissymmetry, broken symmetry, antisymmetry) and its related terms (like invariance, harmony, proportion, rhythm, conservation, self-organisation, etc.) are welcome. Special interest will be devoted to its relation to beauty and truth, to search for any perfect and good.
As a result of the recent decades' publication, conference and exhibition activity one should not re-emphasise the role played by the concept and phenomenon of symmetry in linking sciences and arts, technology and design, different cultures.

Several discoveries could not have been perfected without an impression induced by art, a symmetry consideration (e.g., the artificial retina by the combined digital-analogue chip reflecting the pattern of the cerebral asymmetry; the Fullerene molecule; quasicrystals, etc.), not mentioning here the generalised symmetries, which guide all investigations in physics, looking for the structure of matter. Geometric art movements, inspired partly by design and science, experience a new Renaissance. Meetings of symmetrists have facilitated the birth of such interdisciplinary clues. It is expected that this tradition will continue at the Symmetry Festival in 2003.
The Festival provides a forum for all who apply symmetry (and the related concepts, phenomena and operations, or just the lack of symmetry) in their creative work. It also gives a forum to those who work beyond the traditional boundaries of their respective background discipline, branch of art, technology, or design. Interdisciplinary and holistic approaches are preferred.
The symmetry movement needs revitalisation and rejuvenation. Members of the International Advisory Board and our other senior colleagues are expected to invite their former and present students to join us at the Festival.

There are welcome specialists - beyond the traditional disciplines - from the fields e.g., of
geometric crystallography, stereochemistry, material structures;
applied discrete geometry, ethnomathematics;
generalised, geometric- and dynamic, gauge symmetries in physics, astronomy;
geomorphology and biomorphology;
functional and cerebral asymmetries, and their consequences in perception, education, psychology, creativity and art-science relations;
chirality, anthropology, archaeology;
structures in molecular biology and genetics;
bioengineering;
design and construction principles in structural mechanics, electronics, robotics, hardware, software and processing in computing;
design extended beyond art and technology;
synergetics;
composition principles in ornamental art, architecture, design, structural- and socio-linguistics, literature, visual and acoustic arts;
non-equilibrium processes, asymmetric assumptions in applied game-theory, social structures;
applications in the humanities;
applications in the education;
hierarchy in inanimate and organic natural, human, social, and artificial systems;
logic and philosophy of science, ontology, gnoseology, hermeneutics;
principles and laws governing nature and man-made structures;
analogies from the mentioned (and other) fields.
New applications and approaches are also welcome.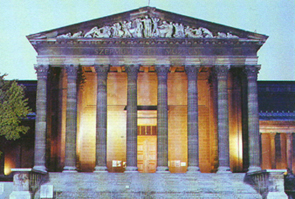 Museum of Fine Arts

Top
Venue
The Symmetry Festival 2003 will be organised in the same Conference Centre in Budapest, where the symposium, Symmetry of Structure, was organised in August 1989.

The Conference will take place in the Agro Hotel Conference Center*** (Address: H-1121 Budapest, Normafa út 54), situated on Svab Hill, a nice, silent part of Buda, offering beautiful panoramas of the city. The hotel provides a theatre style conference room, further rooms with flexible walls for parallel sessions, exhibition space, panorama terrace, reception room.
The nearby forest trails offer a wide range of sports and recreation. The downtown can be reached easily by car (15 min.) or by public transport (30 min.).

Exhibition will be held in Millenaris Park, a brand new prestigious exhibition hall in the center of Budapest.

Official Language
The official language of the Conference is English. No simultaneous translation will be available.
Visas
Visitors from European countries (except Albania, Belarus, Bosnia, Moldova, Russia and Turkey) are not required visas. Participants from a few overseas countries will need a visa (please check beforehand).
Insurance
The Organizers of the Conference do not provide insurance and do not take responsibility for any loss, accident or illness that might occur during the Conference or in the course of travel to or from the meeting site. It is, therefore, the responsibility of the participants to check their coverage with their insurance provider.
Bank, Currency, Credit Cards
The unit of currency is the Hungarian Forint (HUF), denoted as "Ft" by the Hungarians. International credit cards (AmEx, EC/MC, Visa) are accepted at most hotels, restaurants and shops. ATMs are available at the Airport and all over the city. (1 EUR is approx. 260 HUF)
Weather
Hungary is in the temperate zone, weather in August is usually nice and warm. Daily temperature ranges from 25oC to 30oC and the relative humidity is below 40%.
Voltage
The electricity supply in Hungary is 220 V AC (50 Hz)
Registration and Information Desk
The Registration and Information Desk will operate in the Agro Hotel Conference Center as follows:

| | |
| --- | --- |
| Saturday 16 August | 14.00- 17.00 |
| Sunday 17 August | 08:30-17:30 |
| Monday 18 August | 08:30-17:30 |
| Tuesday 19 August | 08:30-17:30 |
| Wednesday 20 August | 08:30-17:30 |
| Thursday 21 August | 08:30-17:30 |
| Friday 22 August | 08:30-14:30 |

Top


INFORMATION FOR AUTHORS AND EXHIBITORS

Overhead projector, data-beamer will be available in all session rooms. Slide projector will be available upon request. Authors wishing to give a computer presentation are kindly asked to bring their own laptop.
Exhibitors: the delivery-, customs cost and administration must be arrange by the exhibitors.



Arrival in Budapest - transfer from the airport

Most participants will arrive at the Budapest Ferihegy Airport. The simplest means of transportation to any place in Budapest is via minibuses. This door-to-door Airport Minibus Service is reasonably priced (approx. EUR 9-10) and is much more reliable than taxis.

Getting to the Conference venue by public transportation

The Agro Hotel Conference Center can be reached as follows:
• from the Pest Downtown, Deak ter (square):
METRO Line 2 (red) to Moszkva ter

• from Keleti (East) Railway Station:
METRO Line 2 to Moszkva ter

• from Nyugati (West) Railway Station:
tram #4 or #6 to Moszkva ter

From Moszkva ter: take bus #21 (written in black!), get off at Hotel Olympia --- 2-3 minutes' walk
(straight forward and then to the right, approx. 250 m) to the Agro Hotel.

Tickets are available at METRO stations, news-stands or major bus/tram termini and must be validated inside
the vehicles or at the entrance to the METRO. Please keep your ticket with you by the end of the rout/exit (Metro).

For more information, consult the map of Budapest .

Top
Registration fees

Before
15 July 2003

After
15 July 2003

Regular fee

HUF 84.000 + 25% VAT

HUF 104.000 + 25% VAT

Discount fee for subscribers to S: C&S*

HUF 60.000 + 25% VAT

HUF 80.000 + 25% VAT

Student fee
(copy of student card is required)

HUF 40.000 + 25% VAT

HUF 64.000 + 25% VAT

Accompanying persons' fee

HUF 20.000 + 25% VAT

HUF 20.000 + 25% VAT

*If you wish to subscribe for the journal, please visit: Symmetry: Culture and Science. Subscription fee is 78 EUR.

Registration fees include:
free attendence of all lecture sessions, performances
visit of the related exhibitions
access to e-mail and the internet, conference bag, badge, extended abstracts on CD ROM
coffee, refreshment in the breaks
participation at the Welcome Reception (in the Restaurant of Hotel Agro Conference Center (Conference site).

Accompanying perosns' fee include:
free entrance for the exhibition
participation at the Welcome Reception (in the Restaurant of Hotel Agro Conference Center (Conference site).
participation at the concert on 17 August

REGISTRATION AND HOTEL RESERVATION FORM (on-line, .doc, .pdf)


Payments can be made by credit card (AmEx, Eurocard/Mastercard and Visa are accepted) or by bank transfer.


Credit cards
In case of paying by credit card please use the Credit Card InForm

Bank transfer
Payments by bank transfer should be sent to the following account of the Symmetry Festival Secretariat


"Symmetry 2003" SCOPE Co. Ltd.
Account No. 11711041-20420022
OTP (National Savings Bank)
H-1117 Budapest, Karinthy F. ut 16, Hungary
SWIFT CODE: OTPVHUHB



In the case of bank transfer the proof of remittance should be sent (preferably by fax: +36-1-386-9378) to the Symmetry Festival Secretariat. In order to be able to identify payments, please make sure that the name of each Conference participant is clearly indicated on all documents.

Please note:
- payments sent by bank transfer must be free of charges for the SCOPE Co. Ltd.
- the cut-off date for early registration (15 July 2003) will be strictly enforced
- for on-the-spot payments credit cards (AmEx, Eurocard/Mastercard, Visa) and cash (HUF) will be accepted.


Hotel Agro Conference Centre.
Hotel of higher category in the downtown and budget accommodation next to the Festival venue will also be available.
Transportation to the downtown: direct city bus connection (20 min), and cab shuttle service.
Budapest airport can be reached by direct flights from over forty European (< 2-3 hours) and North American (< 8 hours) airports. Direct minibuses take the participants from the airport to the Hotel Agro.
Room rates include breakfast and all taxes.
Hotel fee should be paid directly to the hotel.

| | | |
| --- | --- | --- |
| Hotel (Room rates include breakfasts and all taxes.) | Single room | Double room |
| Hotel Agro Conference Center | EUR 55/night/room | EUR 70/night/room |
General Conditions
One night room rate will be charged
- in case of non-attendance if a cancellation notice in writing is not received by the Symmetry Festival Secretariat on or before 01 August 2003
- in case of delayed arrival if the Conference Secretariat is not advised on or before 01 August 2003

Important notices:
- If no credit card data is available hotel booking will be arranged only after having received the registration fee.
- The accommodation fee has to be paid directly to the Symmetry'2003 Conference Secretariat at the registration on the spot.

REGISTRATION AND HOTEL RESERVATION FORM
(
on-line
,
.doc
,
.pdf
)
Confirmation of registration and accommodation will be sent by mail upon receipt of the completed Registration and Hotel Reservation Form with credit card information or the proof of remittance in case of bank transfer.
Please bring the confirmation with you to the Conference for presentation at the Registration Desk.


Requests for refunds of the registration fee (less 20% administration charge) will be honored only if they are received before 01 August, 2003.
No refunds will be given for cancellation requests received after that date or for non-attendance.

| | |
| --- | --- |
| Early registration | 15 July 2003 |
| Symmetry Festival | 16-22 August 2003 |

Top

Adler, I. (USA) (biology, mathematics)
Aerts, D. (Belgium) (physics)
Avnir, D. (Israel) (chemistry)
Bookstein, F. (USA) (biology)
Bruhn, S. (Germany) (musicology)
Caglioti, G. (Italy) (physics, arts)
Chua, L. (USA) (electronic engineering)
Collier, J. (Canada) (philosophy of science)
Crowe, D. (USA) (mathematics)
D'Ambrosio, U. (Brazil) (ethnomathematcis)
Dunham, D. (USA) (mathematics, arts)
Durini, L. D. (Italy) (arts)
Elitzur, A. (Israel) (physics, philosophy of science)
Frolov, K.V. (Russia) (mechanical engineering)
Gerdes, P. (Mozambique) (ethnomathematics)
Gould, L. (USA) (physics)
Hahn, T. (Germany) (crystallography)
Hofkirchner, W. (Austria) (information science)
Hofstadter, D. (USA) (cognitive research)
Ilgen, F. (The Netherlands) (arts)
Imponente, A. (Italy) (arts)
Kappraff, J. (USA) (mathematics)
Kerszberg, M. (France) (biology)
Koptsik, V. A. (Russia) (crystallography, physics)
Lederman, L. (USA) (physics)
Lee, T. D. (USA) (physics)
VLoeb, A. L. (USA) (crystallography, arts, design)
Mackay, A. (UK) (crystallography)
Mainzer, K. (Germany) (philosophy)
Marcus, S. (Romania) (linguistics)
Marijuan, P. (Spain) (information science, engineering)
Miyazaki, K. (Japan) (mathematical crystallography)
Ne'eman, Y. (Israel) (physics)
Olovsson, I. (Sweden) (chemistry)
Pardavi-Horvath, M. (USA) (physics)
Penrose, R. (UK) (physics)
Petoukhov, S. V. (Russia) (bioengineering)
Pimenta, E. (Portugal) (architecutre, arts, music)
V Prigogine, I. (Belgium) (chemistry)
Rosen, J. (USA) (physics)
Rossi, C. (Italy) (chemistry)
Ruffini, R. (Italy) (astrophysics)
Saniga, M. (Slovakia) (astronomy)
Schattschneider, D. (USA) (mathematics, arts)
Sequin, C. (USA) (mathematics, arts)
Sims, J. (USA) (arts, mathematics)
Trivedi, K. (India) (design, philosophy)
Verostko, R. (USA) (arts)
Vitiello, G. (Italy) (physics)
Weaire, D. (Ireland) (physics)
Weinberg, S. (USA) (physics)
Wegner, B. (Germany) (mathematics)
Wiggs, R. (USA) (mathematics, arts)
Zee, A. (USA) (physics)
T. Balogh, L. Beke, L. Cser, G. Darvas, P. Érdi, Z. Gáspár, A. Kálmán, M. Kedves, P. Michelberger, Z. Perjés, E. Szathmáry, K. Széles, T. Tarnai, E. Tusa.


Top
S. Bérczi, J. Böhm, A. Csáji, J. Cseh, Z. Dárdai, D. Erdély, K. Fittler, T. Fleischer, G. Fröhlich, E. Gaul, G. Gévay, G. Hajnóczi, E. Hartmann, S. Kabai, J. Karsai, M. Makai, C. Mezei, L. Ropolyi, L. Szabados, A. S. Szöllõsy.

Symmetry Festival Secretariat
SCOPE Ltd., c/o Ms. Éva Thiry
Kende utca 13-17, Budapest, H-1111 Hungary
Phone: 36-1-209-6001
Fax: 36-1-386-9378
E-mail: symmetry2003@conferences.hu

NOTE:
to avoid misunderstanding:
the organiser of the Symmetry Festival is not ISIS-Symmetry



Top
---